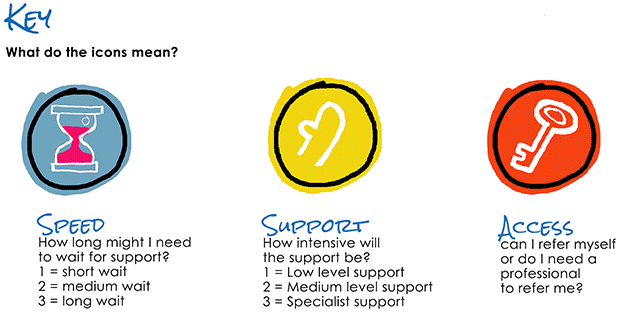 We are the Monstars. Here to help guide you through the pathway with ideas and tips. We were designed with young people from Moray to give a friendly feel to wellbeing. Our names are Connection, Hope, Identity, Meaning and Empowerment. Together we spell CHIME and when you have all five of us you know you can have the best mental health! Watch out for us on every page of this pathway.
How do I decide what support is right for me?
How do I choose what is right for me now?

CHIME tips for accessing mental health support

Connectedness: Who do I want to connect with?
Spending time with friends, family and even pets can really help us feel connected.
Hope & optimism: What is working well and what are my strengths?
Do things you enjoy and don't forget to notice the positives.
Identity: How can I express who I am?
Be yourself. You are more than your difficult experience.
Meaning: What do I want to be different?
Explore what you'd like to change. Think about what you would like help with.
Empowerment: Who can help me make decisions?
Find someone you trust who will listen to you. Your voice matters. Work with outher to find support that is right for you.