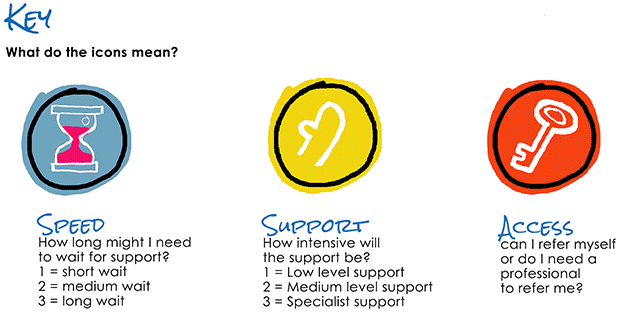 How Do I Decide?
I want to support my mental health
How do I choose what is right for me at this time?
1. Reflect without judgement: Consider these questions with a your family members, a trusted supporter or friend.
2. Be honest: This will help you decide which options will work now and which you or your family members might like to try later.
3. There is no 'wrong' choice or failure: Just a more helpful choice for you and your family at this time. The decision you make might not be the same for all family members involved, one member might be more comfortable with certain support than others, try to be respectful about each other's choices.
First steps: Navigate Mental Health Pathways in Moray
Speed – How fast do I need support? – swift services have less timer icons.
Support – How much support do I need? – high support services have more hand icons.
Access – Do I need to see my GP? – services are available that don't need a GP referral.
Options – Am I considering all the options? – select more than one service to try.
How do I choose what is right for me and my family at this time?
Going further: CHIME – Build a better understanding of yourself
Connectedness: How ready am I and are family members to connect with others? Building confidence as an active community member can take time but makes a big difference to wellbeing. Accepting support and giving support to others is a key part of good health.
Hope & optimism: How motivated am I and are my family members to continue to make changes? Recovery can be described as a journey with ups and downs, there is no one fix as each person is individual. Different levels of being able to stick to changing something need different support levels. And some family members might need more encouragement than others.
Identity: How do I want to view myself? And how is that for my family members? In medical based services you are a 'patient', with others you are a 'student' or a 'peer' of recovery of wellbeing. Different roles can carry particular positive or negative associations for some people.
Families are diverse and there are many different types and make ups of families. Some are connected biologically and others are connected through, relationship, marriage, adoption, fostering. 
Meaning: Is my or our issue about something else as well? Housing, debt, relationships, caring for family, employability – these all have other specific support services in Moray. Explore the links at the bottom of the page "Helplines and Useful Resources".
Empowerment: Who is/are the right person or people to help us make decisions? Exploring our options and speaking out to say what we need can be shared with others such as supporters or friends. Learning this skill helps others to understand and act on our needs faster.